Lyman Group, FormerLy known as SDR (Satya Djaya Raya) Group was established in 1959 by its founder, Mr. Susanta Lyman. Commencing from a trading business, Lyman Group presently diversified into other lines of business: Timber, Property, Building materials & Distribution, Agriculture and Oil & Gas.
Our philosophy has always been "Reliability & Quality is Our Business" it is highly reflected in the excellence of our products & services and the integrity of our management expertise.
We are committed to working together and contributing the best efforts for our people, business partners and clients.
Kanmuri is a member of Lyman Group, multinational company that has wide local and international distribution network. Manufactured by PT. Keramindo Megah Pertiwi since January 1997, Kanmuri currently is Indonesia largest producer with annual output above 25 million pieces. Consistency of products quality brings Kanmuri to become market leader in Indonesia for the Glazed Ceramic Roof Tile products. It is the only one in Indonesia which offers three product profiles, ESPANICA, MILENIO, FULL FLAT and come with the most complete range of accessories in the market, such as Lapping Tile, Valley Tile, Ventilation Tile and Double Tile.
The factory location is in Balaraja, Tangerang, Indonesia occupying 20 hectares land area within Lyman Building Material Industrial Complex, 45 minutes from Jakarta city and 1.5 hours from Jakarta port.
Resulting from the group professional long experience and continuous learning, Kanmuri become steady in quantity and quality of its product with our commitment :
THE BEST SOLUTION FOR YOUR ROOF
We manufacture reliable roof tiles to match the attributes of:
 Smooth surface
Consistent dimension
Minimal shading
High strength
Low water absorption, water impermeable
On time delivery
At our production floor we incorporate these attributes in our range of Kanmuri products. We employ advance Japanese technology with full automation to ensure uniform and standardized production process. We implement stringent quality control from selection of raw material up to final sorting and packing of the finished product.
We limit the clay particle size; vaccumed and compacted the clay and press to obtain the smooth shape of tile. The drying is in full automatic tunnel dryer to get low and uniform moisture content. The colouring process uses international standard glazed raw material. The final process, Firing is up to 1100 degree Celsius and use fully computerized equipment to ensure no product deformation and consistent colour in the final product.
We deliver the product to you on time as result of our professional management team, full inventory computer system and the support of our credible supplier.
Clay Preparation:
Several ENGINEs of clay are mixed and fine grinded to get very fine particle size using Roller Mills. The correct clay-mix is crucial to obtain excellent finished product quality.
Forming:
Clay-mix now goes through the de-aired extruder where it is continuously extruded out, well compacted and with no air bubble trapped inside. Clay extrusion is then placed into the closed-mould in high pressure pressing machine to obtain the final roof tile shaped
Drying:
Moisture is extracted out from the tile body when going through the computerized drying chamber.
Glazing:
International quality of glaze material is applied to the surface of the tile. Glaze materials include pigments (to determine colour) and frits for glossiness effect.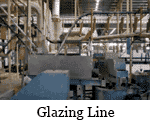 Firing:
Glazed tiles go through the tunnel kiln fired up to 1.100 Celsius degree using natural gas. Kiln is fully computerized to ensure no product deformation and consistent colour tone on the final product.